Who Inspires The Women Who Inspire Us?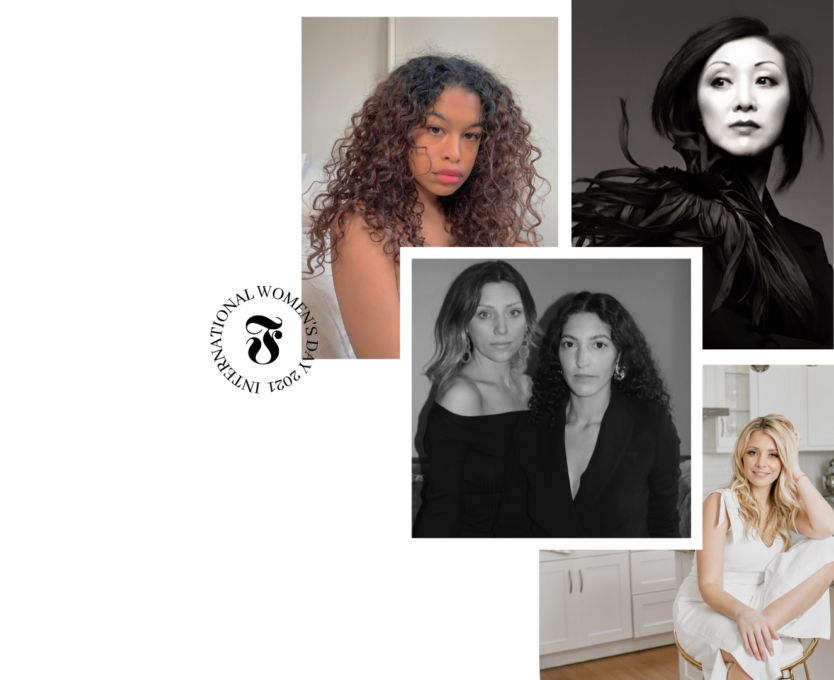 category

WhatDrivesYou

author

Christine Faulhaber

date

March 31st, 2021
Behind every great woman, there's another woman. We know, first hand, that women who work together can achieve great accomplishments and inspire the next generation to go further. We are inspired by so many of the amazing women we get to work with at Faulhaber Communications so this International Women's Day, we reached out to see who inspires the women who inspire us?
SUSAN LANGDON
A long-time FAULHABER collaborator and recent Order of Canada recipient, Susan Langdon, inspire us by fearlessly knowing what she wants and working hard until she achieves it.  Who inspires her? Her high school teacher, Vera Taylor.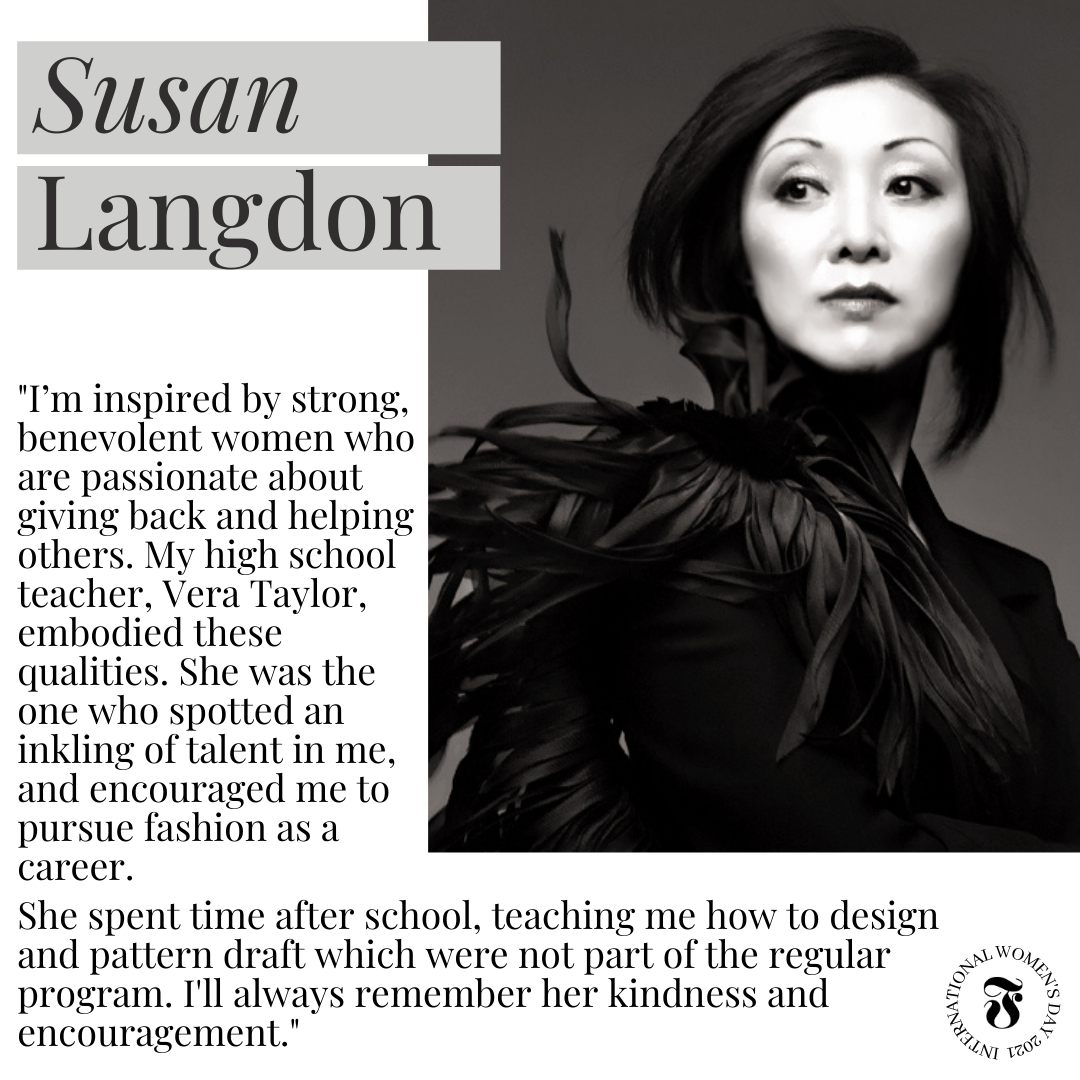 "I'm inspired by strong, benevolent women who are passionate about giving back and helping others. My high school teacher, Vera Taylor, embodied these qualities. She was the one who spotted an inkling of talent in me and encouraged me to pursue fashion as a career. She spent time after school, teaching me how to design and pattern draft which was not part of the regular program. I'll always remember her kindness and encouragement." 
KRISTEN GAUTHIER
Kristen Gauthier is an innovative brand storyteller and is helping to break down stigmas about cannabis marketing. As a female leader in cannabis, you've helped tell authentic stories about women's relationships to the plant through LAT, built modern-day cannabis heirlooms with f8te, and worked with 48N to build one of Canada's leading recognized cannabis brands. Who inspires her? Nicole Mussico.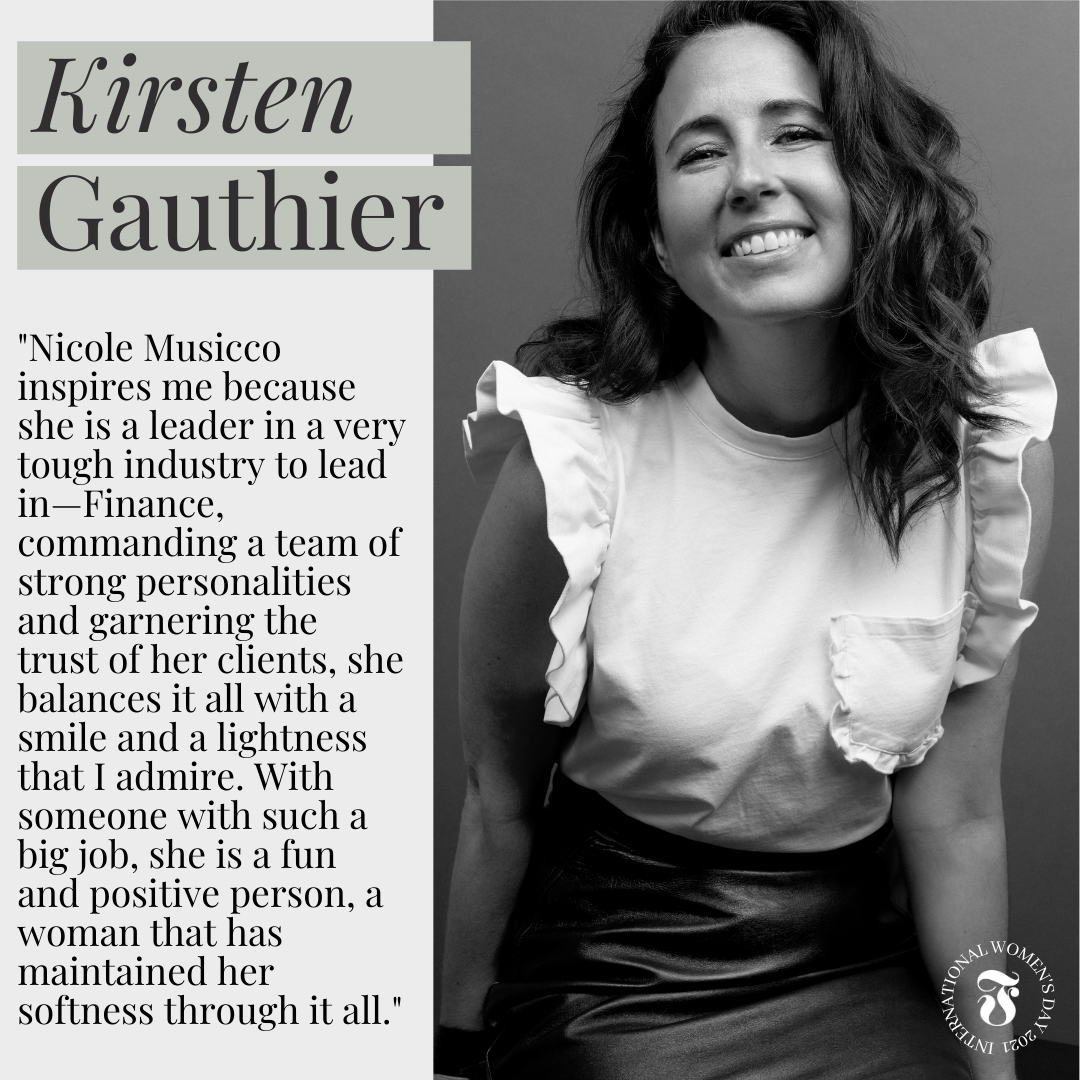 "Nicole Musicco inspires me because she is a leader in a very tough industry to lead in—Finance, commanding a team of strong personalities and garnering the trust of her clients, she balances it all with a smile and a lightness that I admire. With someone with such a big job, she is a fun and positive person, a woman that has maintained her softness through it all." 
ALYSSA KERBEL
Alyssa Kerbel, the founder and president of mini mioche, has the incredible grit and drive needed to think big and make it work. From early days slogging denim with our president, Christine Faulhaber, to her success as an entrepreneur, she is an incredible source of inspiration. Who inspires her? Stacy Moore.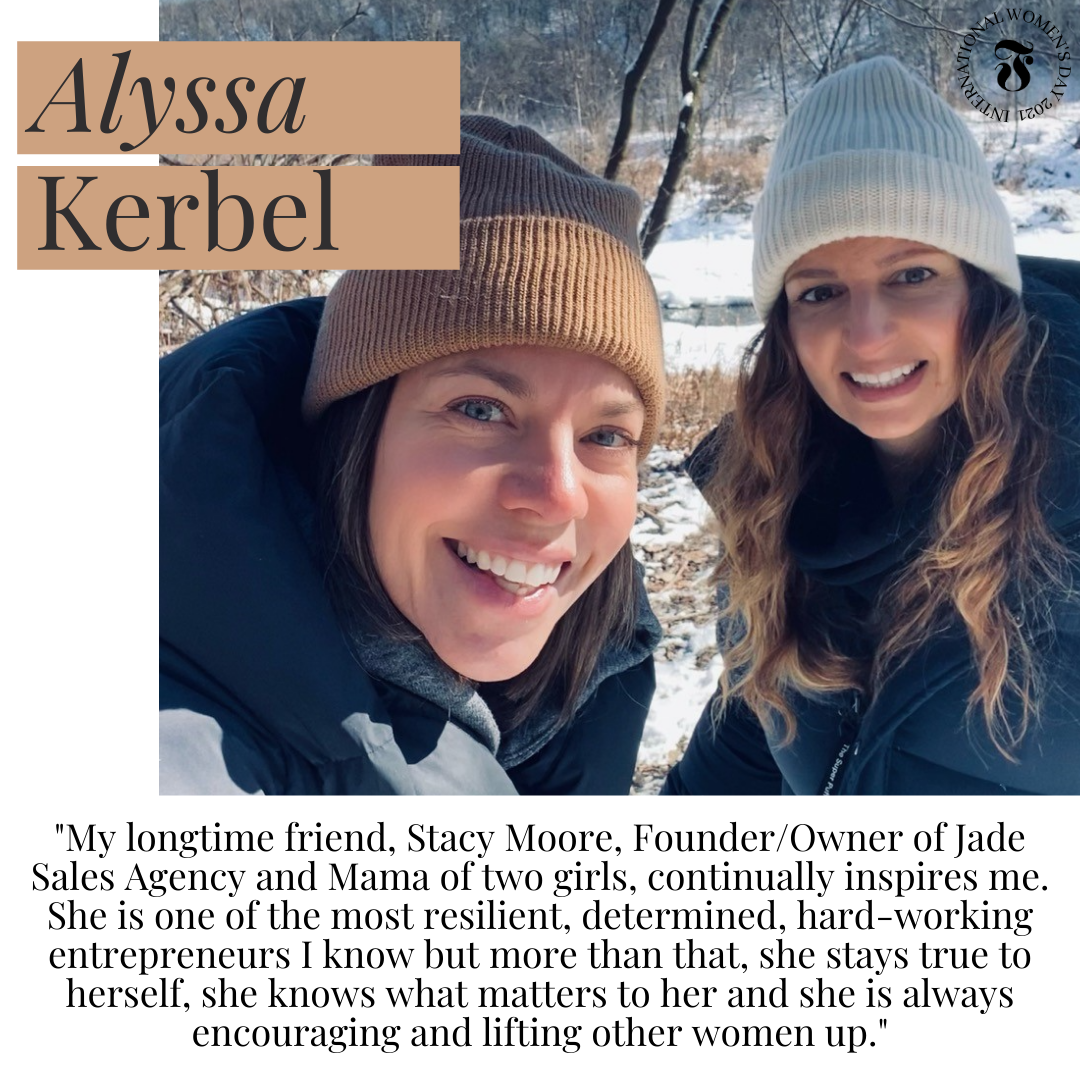 "My longtime friend, Stacy Moore, Founder/Owner of Jade Sales Agency and Mama of two girls, continually inspires me. She is one of the most resilient, determined, hard working entrepreneurs I know but more than that, she stays true to herself, she knows what matters to her and she is always encouraging and lifting other women up." 
CARLEY FORTUNE
Carley Fortune leads a team of incredible talented women at Refinery29 Canada, a female-driven media platform that tells interesting, authentic and diverse stories about what it means to be a modern woman. It came at no surprise that when we asked who inspires her, she shouted out her team.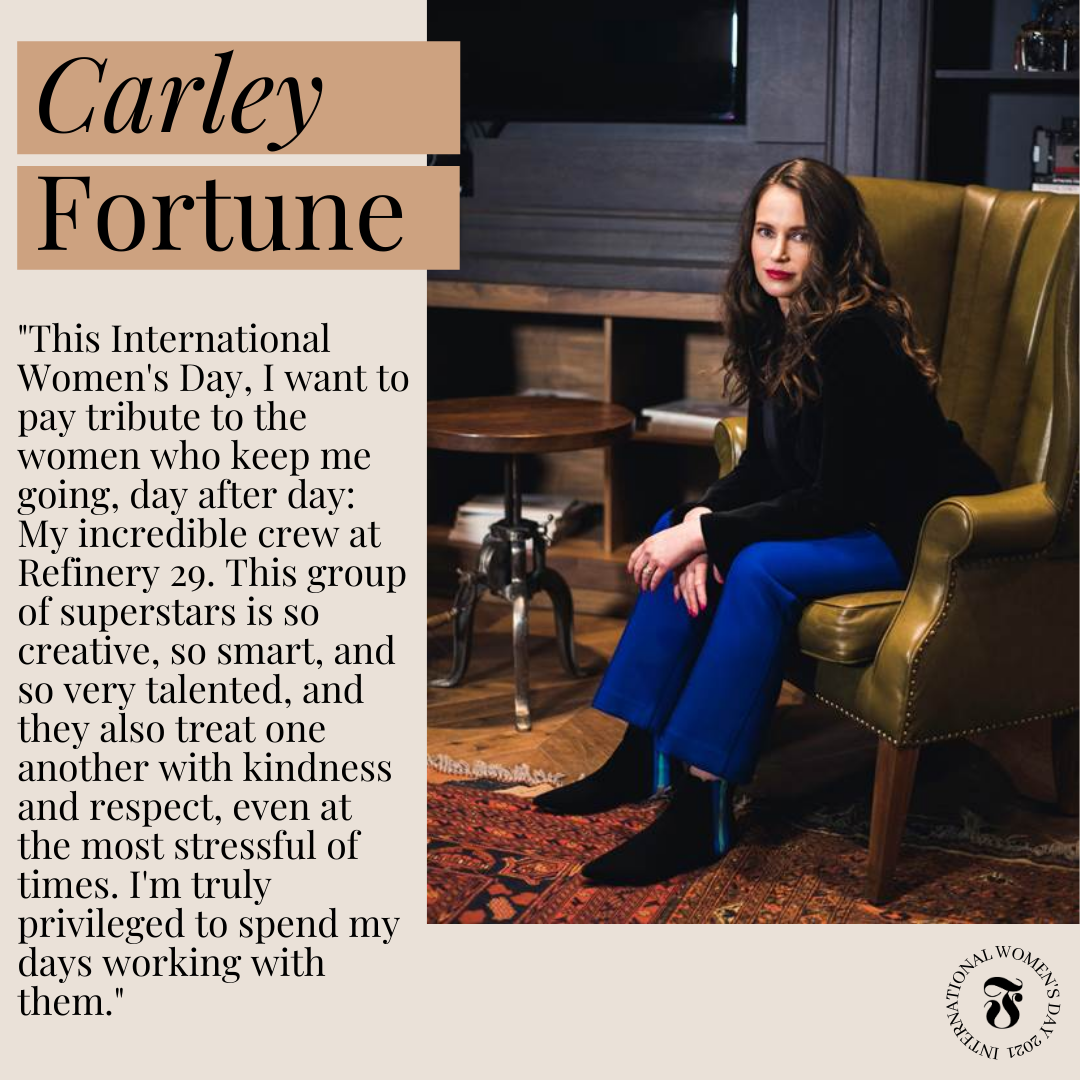 "This International Women's Day, I want to pay tribute to the women who keep me going, day after day: My incredible crew at Refinery 29. This group of superstars is so creative, so smart, and so very talented, and they also treat one another with kindness and respect, even at the most stressful of times. I'm truly privileged to spend my days working with them." 
THE REBEL MAMAS
NIKITA STANLEY AND ALEKS JASSEM
The Rebel Mama's are a constant source of inspiration. They have built a business by fostering a community of rebel mamas, through telling REAL stories about motherhood and, equally as important, sisterhood. Their content makes new mums laugh and teaches them the tips and tricks of raising tiny humans. More importantly, they promote not losing your own identity through motherhood. As of recent, the pair are admirably highlighting the importance of female financial independence. Who inspires them? Christine Flynn and Dr. Andrea Gelinas.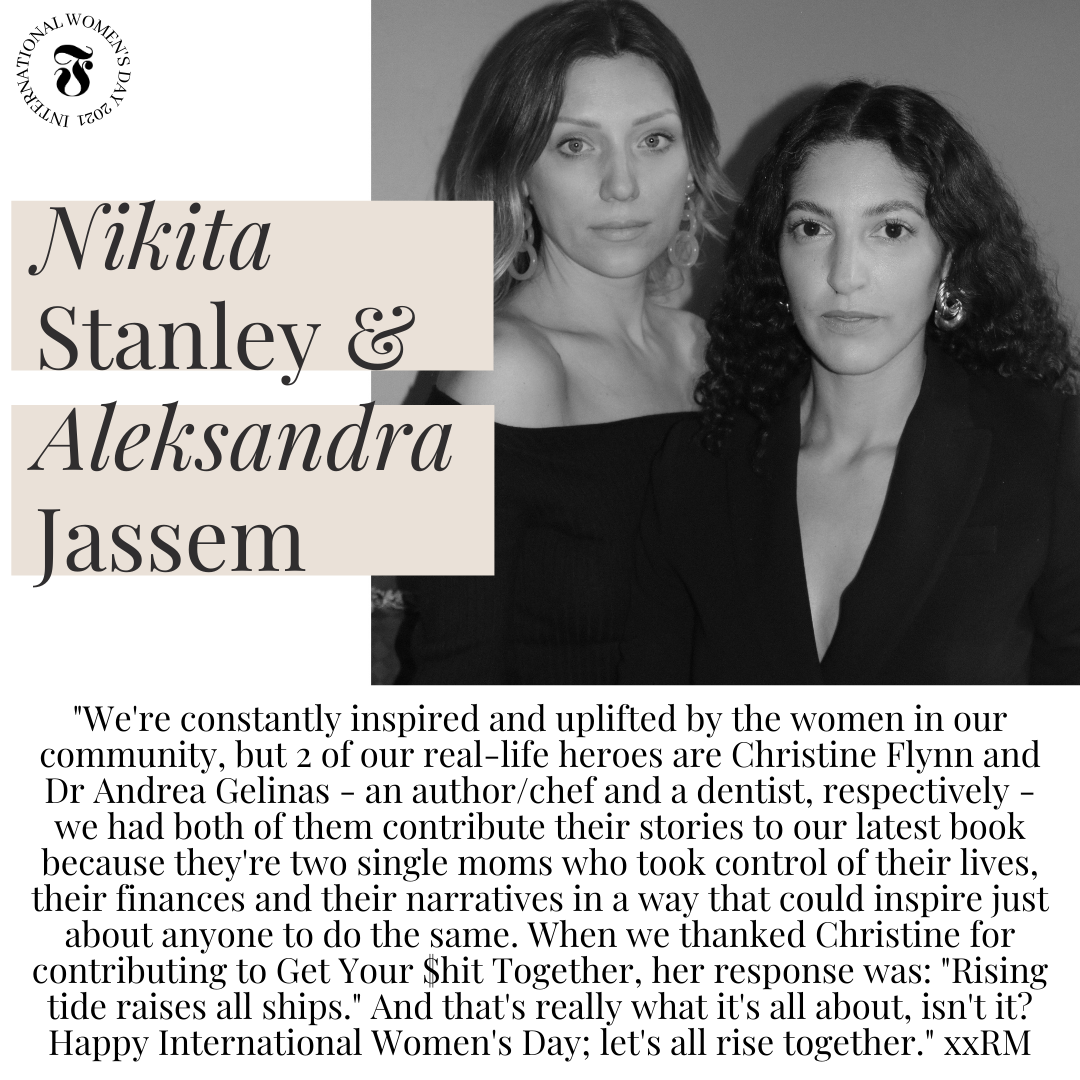 "We're constantly inspired and uplifted by the women in our community, but 2 of our real-life heroes are Christine Flynn and Dr Andrea Gelinas – an author/chef and a dentist, respectively – we had both of them contribute their stories to our latest book because they're two single moms who took control of their lives, their finances and their narratives in a way that could inspire just about anyone to do the same. When we thanked Christine for contributing to Get Your $hit Together, her response was: "Rising tide raises all ships." And that's really what it's all about, isn't it? Happy International Women's Day; let's all rise together." XxRM 
MINDY MCKNIGHT
Mindy McKnight, founder of Hairitage by Mindy, is a fabulous entrepreneur who juggles motherhood and owning a business with such finesse. The fact she has launched a brand into a new market during a pandemic has been such an inspiration and watching the success happen in real time made us excited to know: who inspires her? Susan Wojcicki, CEO of Youtube.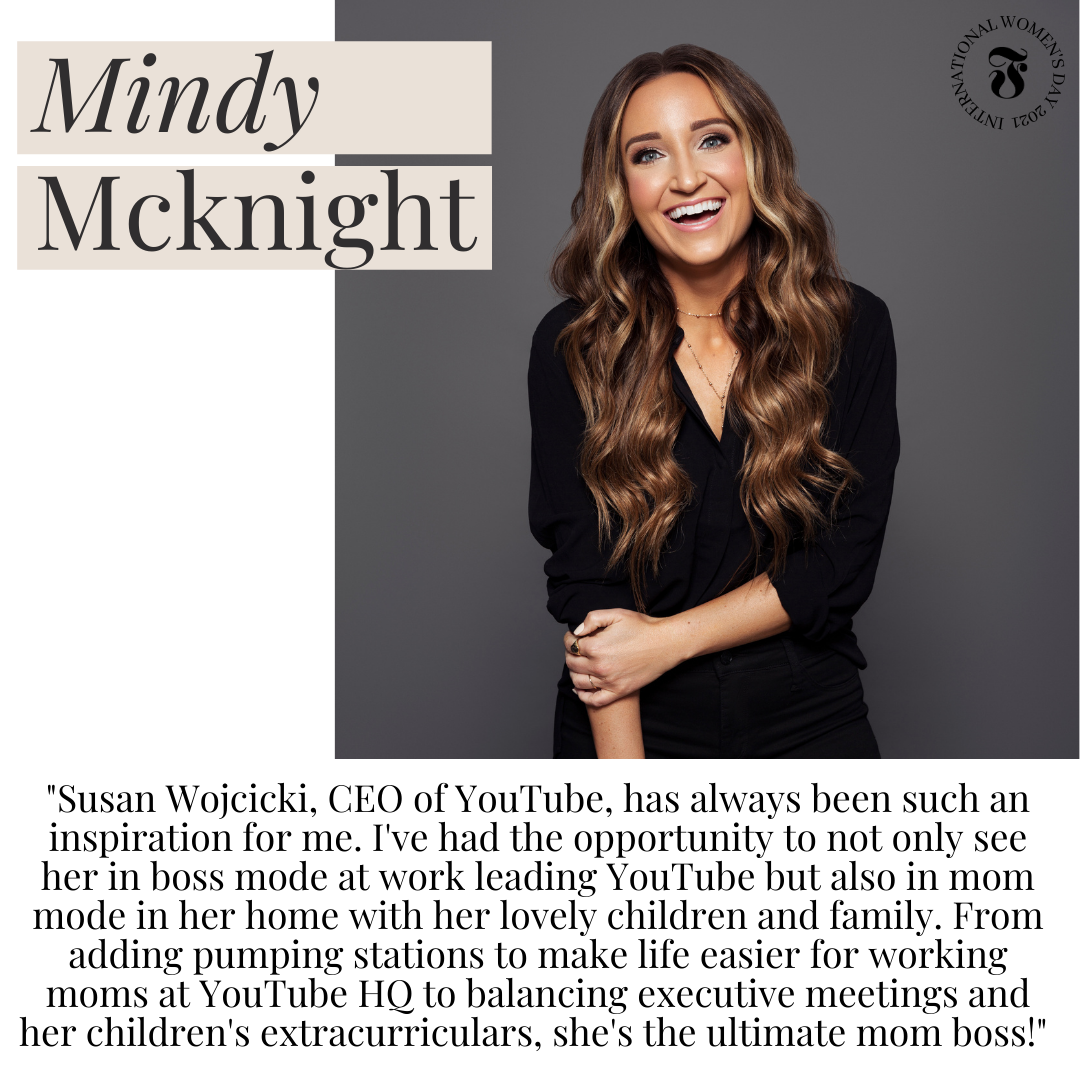 "Susan Wojcicki, CEO of YouTube, has always been such an inspiration for me. I've had the opportunity to not only see her in boss mode at work leading YouTube but also in mom mode in her home with her lovely children and family. From adding pumping stations to make life easier for working moms at YouTube HQ to balancing executive meetings and her children's extracurriculars, she's the ultimate mom boss!" 
KIARA BLANCHETTE
Kiara Blanchette is a powerhouse: content creator, model, youtuber, podcast host, wine maker, and best-selling author(x2!!). Who inspires her? Her mom.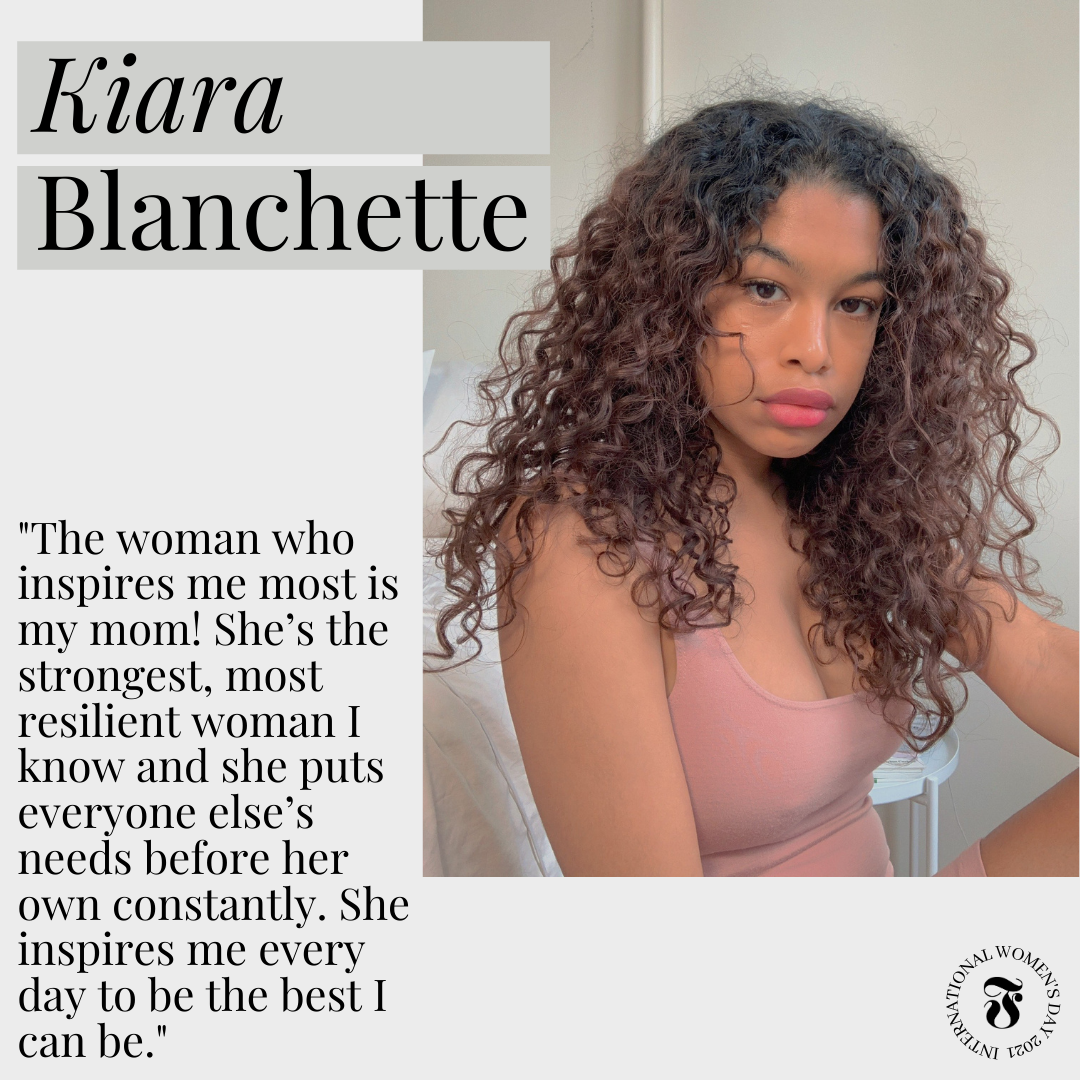 "The woman who inspires me most is my mom! She's the strongest, most resilient woman I know and she puts everyone else's needs before her own constantly. She inspires me every day to be the best I can be." 
LAURA 
deCARUFEL
At The Kit, Laura deCarufel motivates a team that is dedicated to producing incredible, creative results. She does all of this with grace and poise while being a true boss! Laura deCarufel inspires us to come up with creative ways to make magic and to deliver excellence. Who inspires her? Renée Tse.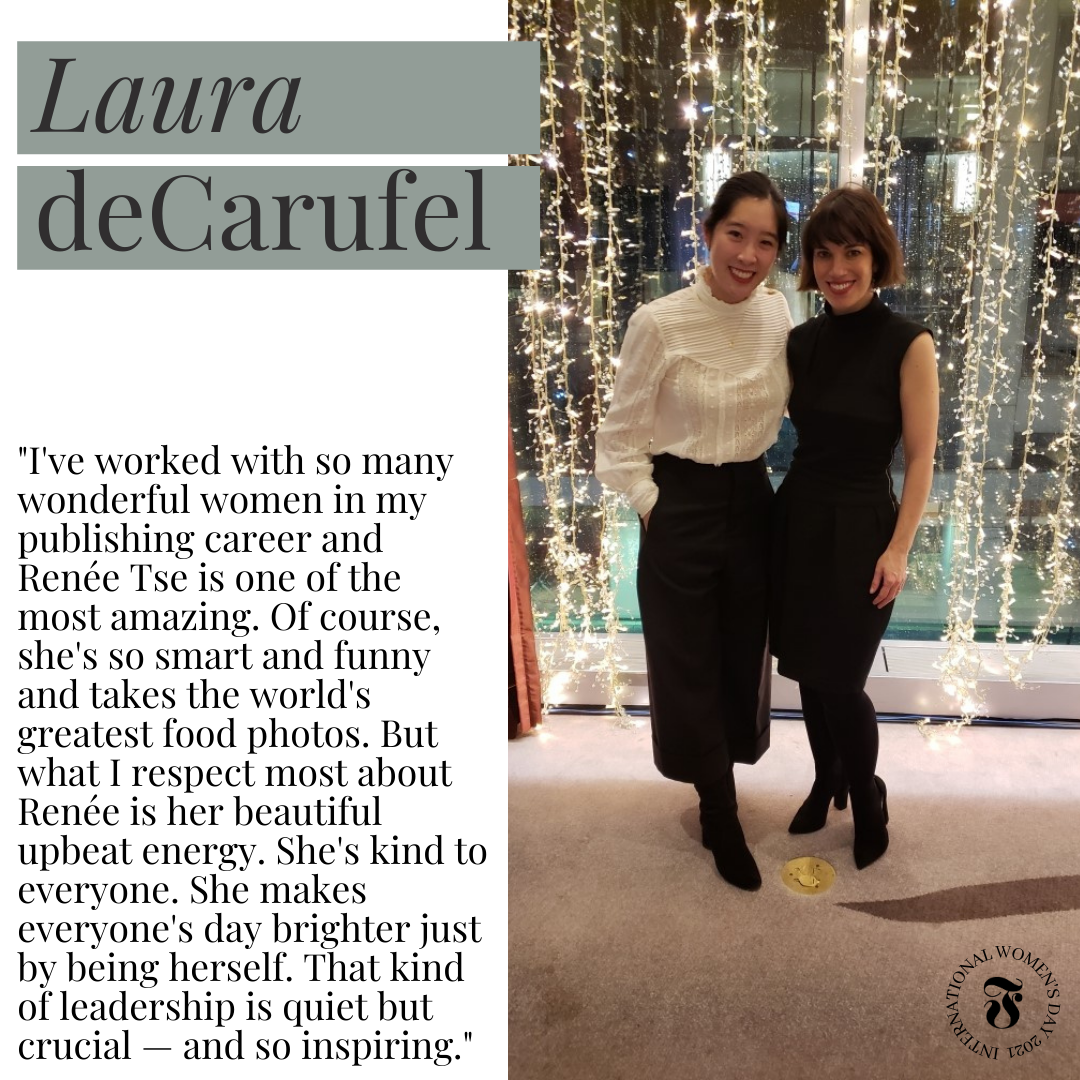 "I've worked with so many wonderful women in my publishing career and Renée Tse is one of the most amazing. Of course, she's so smart and funny and takes the world's greatest food photos. But what I respect most about Renée is her beautiful upbeat energy. She's kind to everyone. She makes everyone's day brighter just by being herself. That kind of leadership is quiet but crucial — and so inspiring." 
DANIELLE GRAHAM
Danielle Graham is a super-mom, on-air rockstar, friend, sister, wife and businesswoman. She advocates for others, stands up for what/who she believes in, and is a force to be reckoned with. Who inspires her? Her daughter.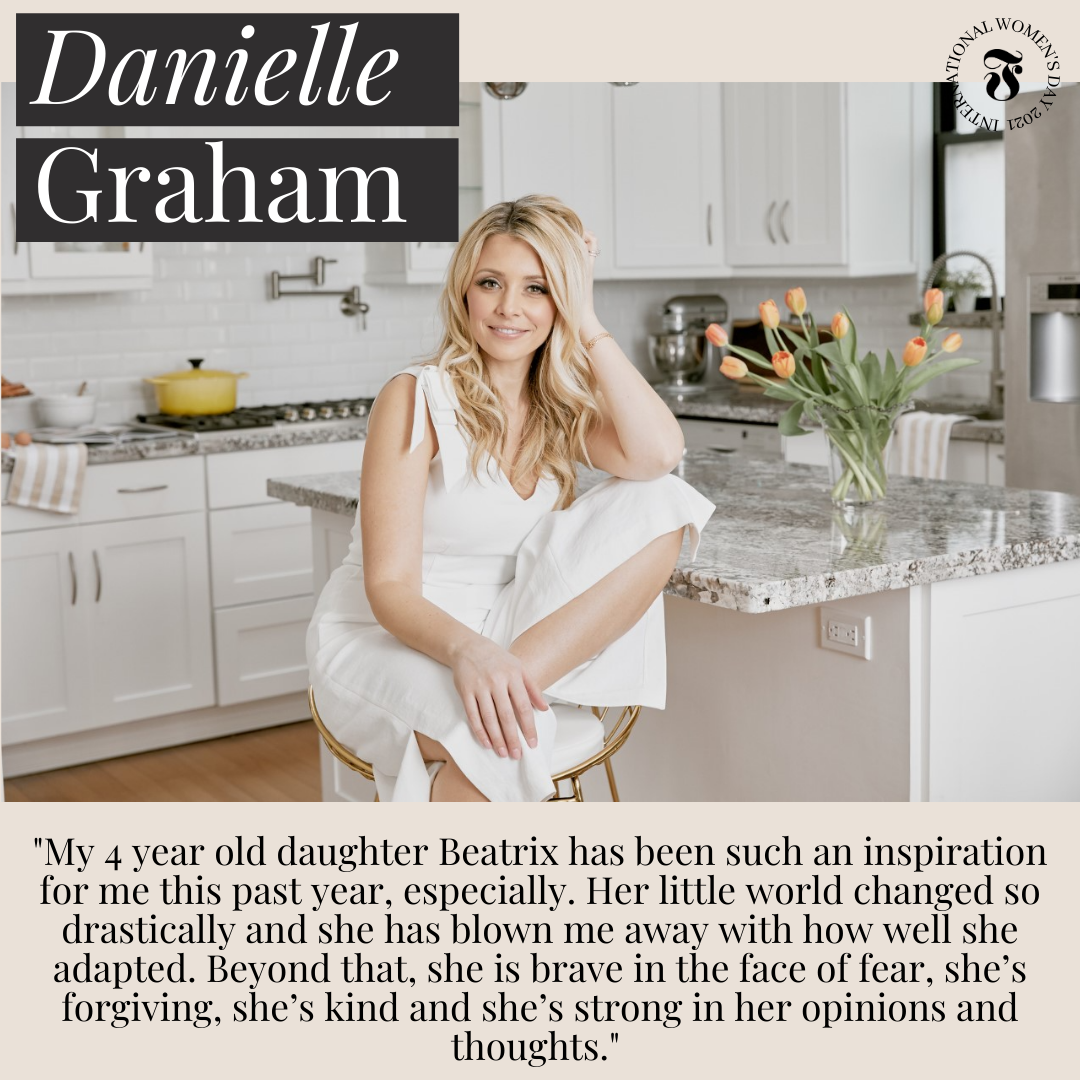 "My 4 year old daughter Beatrix has been such an inspiration for me this past year, especially. Her little world changed so drastically and she has blown me away with how well she adapted. Beyond that, she is brave in the face of fear, she's forgiving, she's kind and she's strong in her opinions and thoughts." 
DINA ROCK
Dina Rock if not afraid to try and fail – and succeed. Pivoting her career from health care to entrepreneur by creating her own brand of pickles from scratch was a huge lift. She continues to chase and create the life that she wants. Who inspires her? Kailey Gilchrist.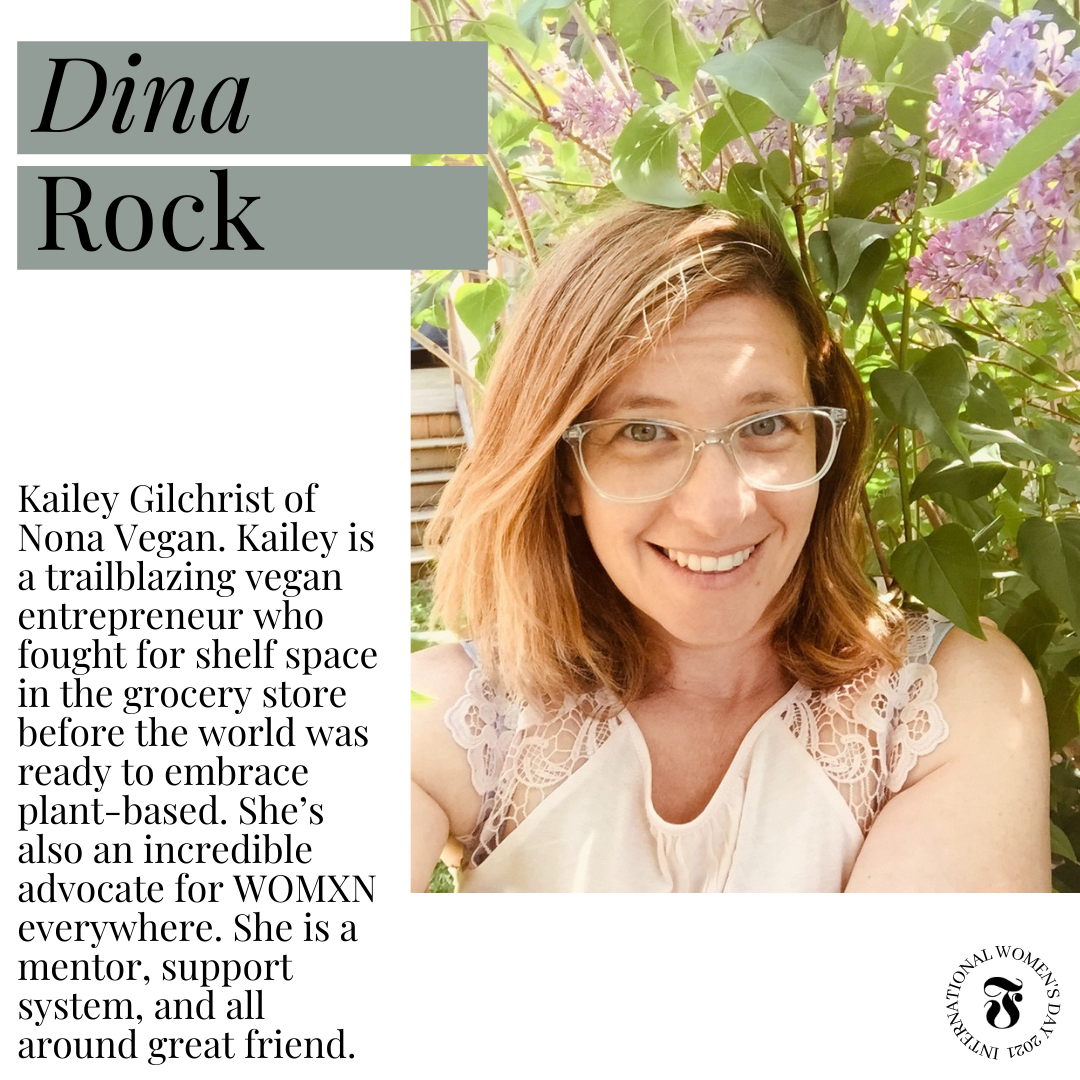 "Kailey Gilchrist of Nona Vegan. Gilchrist is a trailblazing vegan entrepreneur who fought for shelf space in the grocery store before the world was ready to embrace plant-based. She's also an incredible advocate for WOMXN everywhere. She is a mentor, support system, and all around great friend." 
Find us on social and let us know who are the women that inspire you?
Read our other International Women's Day FDRIVE article.